C-Series gas cabinet in a standard configuration for laboratory applications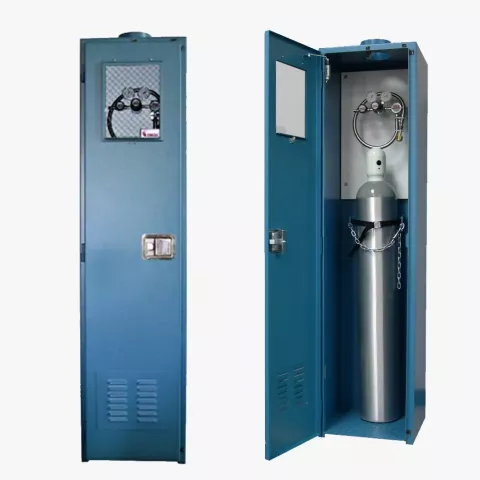 CONCOA C-Series Gas Cabinet System is designed to contain both the mounted gas supply system and their attached gas cylinders, thus preserving the safety of the working environment outside of the cabinet and conforming to the requirements of local fire codes. To order any CONCOA protocol station, mounted regulator, or unenclosed pressure differential switchover fully assembled, functionally tested, and spectrometrically leak checked, simply prepend the part number with C1-, C2-, C3- or C4- depending on the desired cabinet size. For example, to order a 432 Series single station manifold for high purity hydrogen service mounted in a one-cylinder cabinet, specify C1-4323331-01-350M.
All welded, extra heavy-duty steel construction protects cylinders and valves from damage
Protective powder coating ensures chemical and rust resistance
Sprinkler head near exhaust vent bolsters isolated fire protection
Adjustable cylinder brackets allow for precise hose alignment 
Automatic closing door with keyed door latch prevents unwanted access
Ventilation louvers provide cabinet interior with adequate airflow circulation
All stainless steel fasteners assure added durability and longevity
WARNING: This product can expose you to chemicals including Lead, Chromium, Nickel, and 1-3 Butadiene, which are known to the state of California to cause cancer, birth defects, or other reproductive harm. And, this product can expose you to chemicals including Bisphenol A (BPA) which is known to the State of California to cause female reproductive harm. For more information go to www. PSWarnings.ca.gov.