Custom integrated gas cabinet for industrial and commercial applications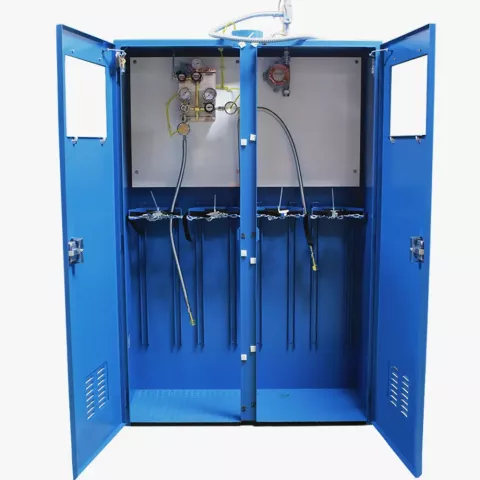 Along with a wide range of standard cabinet systems, CONCOA provides custom gas cabinets and features with a variety of gas equipment configurations. CONCOA unique capabilities maximize safety and reliability while providing the highest level of flexibility for monitoring and control of flammable and hazardous gas sources. Custom gas delivery equipment, gas detection, and safety device options such as emergency shut-off valves and emergency shut-off controllers allow the user to design a complete, safe, and interconnected gas delivery system. CONCOA custom gas cabinets are designed and manufactured in accordance with CONCOA ISO 9001:2015 quality system to meet local regulatory requirements.
Extensible and field configurable components extend longevity in laboratory settings
Spectrometrically leak challenged with helium assures suitability for high purity service
Detailed manufacturing drawings ensure conformance
Comprehensible factory challenge validates the design
WARNING: This product can expose you to chemicals including Lead, Chromium, Nickel, and 1-3 Butadiene, which are known to the state of California to cause cancer, birth defects, or other reproductive harm. And, this product can expose you to chemicals including Bisphenol A (BPA) which is known to the State of California to cause female reproductive harm. For more information go to www. PSWarnings.ca.gov.